Reception rooms and a private garden for your events
The Manoir de Saint-Prex offers an exceptional and intimate setting reserved for your exclusive use at any time of year
The interior spaces located on the ground floor have all the charm of a historic residence and comply with all contemporary standards for comfort and safety.
The grand hall, the parlour and the boudoir all offer direct access to the magnificent wooded grounds that surround the building, with a panoramic view of Lake Geneva, reserved for your eyes only.
At the Manoir de Saint-Prex, all indoor spaces have been tastefully renovated and are made private so that you can feel at home, in complete privacy.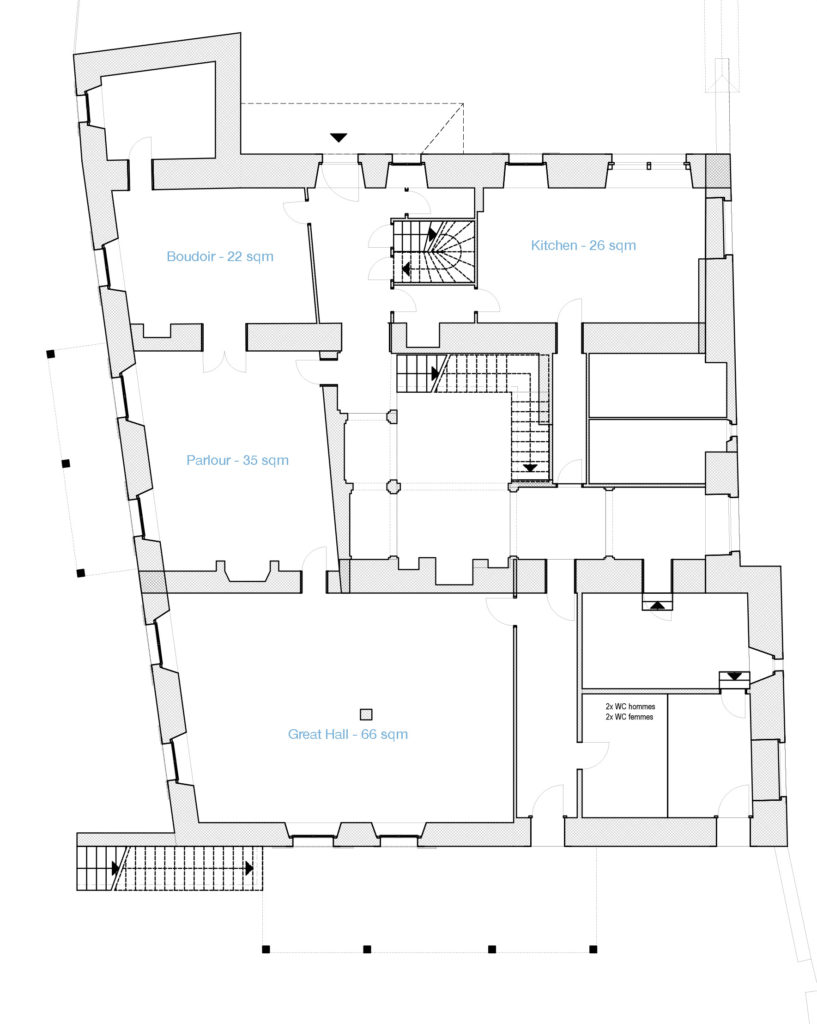 The great hall, with its view of the garden and lake, is perfectly suited to conferences, workshops, parties or banquets. It combines comfort and modernity with the charm of an authentic location.
Equipment:
Modern audio-visual equipment
2 fixed TV screens, 2 mobile TV screens, 1 electronic flipchart
WiFi access included
Capacity:
Floor area: 66 m2
Conference 20/45 people
Seated banquet up to 60 guests
Standing buffet up to 120 guests
Layouts:
Conference:
Seated: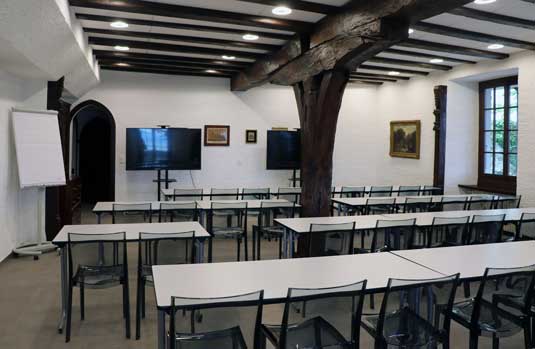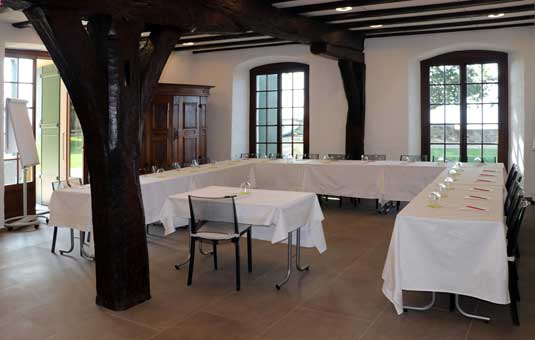 The parlour offers a warm and private setting for a seated reception or a buffet. It is also the ideal place to have a break and mingle during a conference. The period setting and furniture bring authentic charm to the parlour, which looks out onto the garden and lake.
Equipment:
Sofa, armchairs, fireplace
WiFi access included
Capacity:
Floor area: 35 m2
Seated banquet up to 20 guests
Standing reception up to 40 guests
Layouts: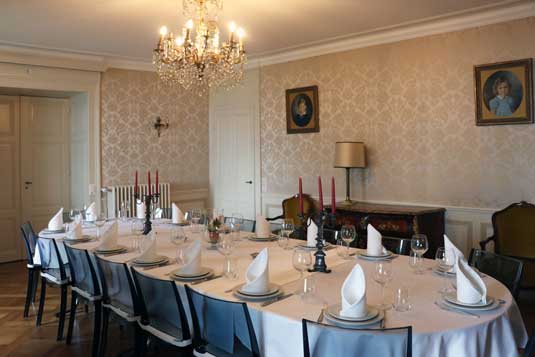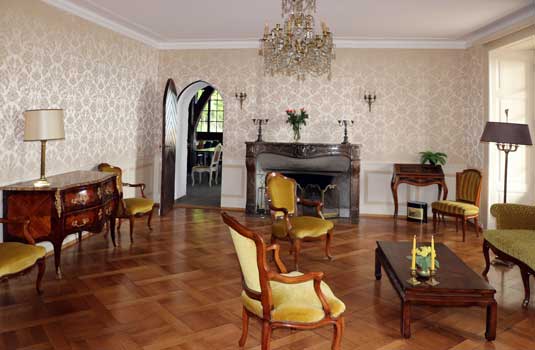 The boudoir is an intimate, refined setting that can be used as an enclosed and discreet space or opened up to include the parlour, thus expanding the receiving space. Its woodwork, painted in delicate colours, gives it an air of charm that will enchant the guests at your parties.
Equipment:
Sofa, armchairs
WiFi access included
Capacity:
Floor area: 22 m2
Standing reception up to 25 guests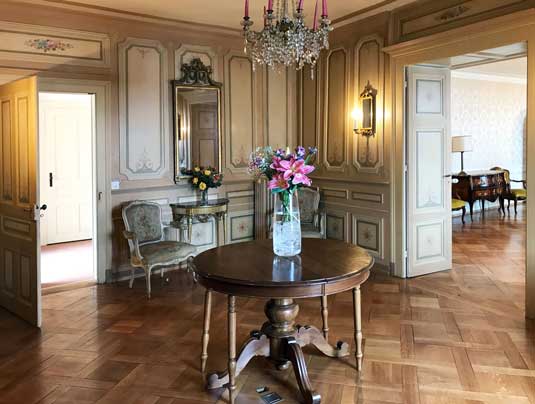 The separate kitchen, fully functional and well-equipped, will allow you to plan the dining options that best fit your needs or to hire a catering service for your conference, your workshop, your party or your wedding.
Equipment:
Ovens, stoves, fridges
Floor area: 26 m2
A cloakroom will be available for your exclusive use, as well as restrooms accessible to people with reduced mobility.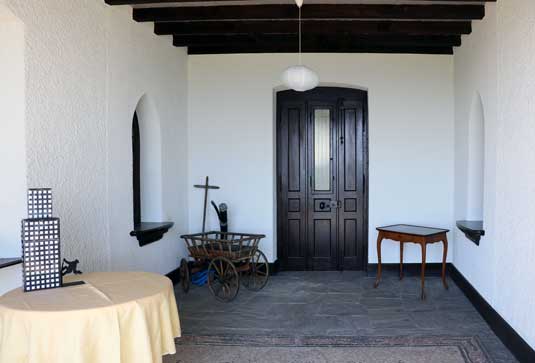 Exterior
The Manoir de Saint-Prex is surrounded by magnificent grounds with a panoramic view of Lake Geneva. When planning your party, your wedding or your professional event at the Manoir, you will have exclusive access to this lush green haven, enjoyable all year round.
Our nearly 3000 square-metres of grounds offers a breathtaking view of the lake. This serene haven, notably home to a 300-year-old plane tree, is a source of inspiration and harmony in any season.
Equipment:
Covered terrace
Outdoor furniture
It is possible to set up reception tents in the garden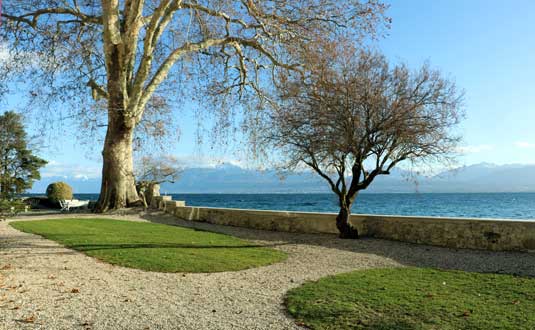 We have a teahouse, a fire pit, and attractions for children in the grounds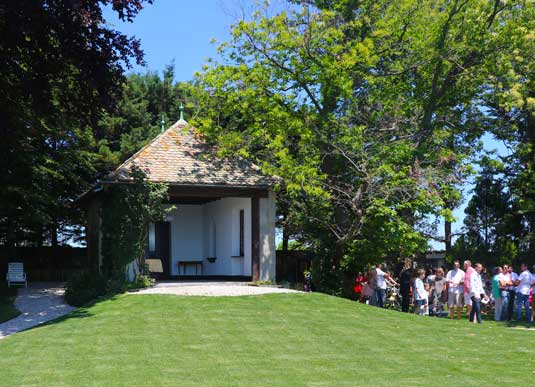 The Manor has private and direct access to the lake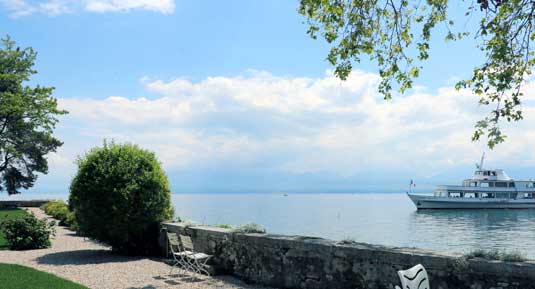 The Manoir's inner courtyard serves as a private parking space for 6 vehicles and allows easy access for service providers and people with reduced mobility.